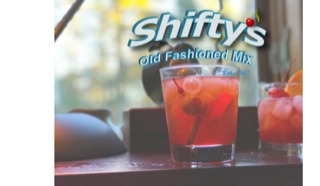 How to make a Shifty's Old Fashioned...
Fill your favorite cocktail glass with ice.
Add 1/2 oz. Shifty's Old Fashioned Mix.
Add 1.5 oz. Bourbon or Brandy.
Add sweet or sour fizzy soda-pop.
Garnish with cherry and orange slice.
Mix and enjoy responsibly.
Great never grows old.
Wisconsin's first, Master Mixologist, Jerome, "Shifty" Hafner was inducted into the, "Bartending Hall of Fame" in 1988. After 61 years of barkeeping, Shifty retired from Sky Club Supper Club, (Home of the First Ever Salad Bar) located in Plover, WI.
Ingredients: Water,
Cane Sugar,
Aromatic Bitters
(water, alcohol, gentian,
vegetable flavoring, extracts
and vegetable coloring)
& Citric Acid
Shake Well Refrigerate After Opening.
Supper Club Distributing
2202 Post Road
Plover WI 54467
25.5 oz (750ml)